The People's Committee of Da Nang City has just decided to approve the investment policy of the Trade Center Complex - Da Nang Highlight Apartment (Danang Landmark) for the Investor, Cosmos Housing JSC. The project is located in the central core of the coastal city of Da Nang, opposite to Apec Park and only less than 100m from Dragon Bridge with 3 facades on Bach Dang Street - the No. 1 tourist route along the Han River, Binh Minh 4 Street and Tran Van Tru Street.
This is considered a prime location of the coastal city of Da Nang.
Da Nang having further more 454 luxury apartments
DIN Capital will cooperate with Cosmos Housing to invest in the construction of Landmark Tower project, including many subdivisions such as commercial apartments for sale, for lease, accommodation business; ancillary services, services of restaurant, entertainment and other commercial and service activities. 
Landmark Tower project has 2 twin towers including the 31-storey Phoenix building and the 39-storey Dragon tower, the project has 2 basements with a total floor area of commercial apartments of more than 30,000 m2. The project uses the land fund effectively in accordance with the city's planning, in line with socio-economic development; bringing the income for laborers and the state revenue.
Landmark Tower is a type of commercial housing with 454 apartments, including 446 residence apartments and 8 residence-trading apartments. The apartments have the area of from 56 to 390.5 m2 and are built in the style of self-contained one (with 3 bedrooms, living room, kitchen, separate toilet). Landmark Tower project with its own distinctive mark will be a good place to live. The apartment is built to international standards, fully equipped with modern facilities to satisfy all needs of settlement, convalescence, entertainment, trade and service. 
Internal facilities serving project residents and customers such as firework square, commercial center, infinity pool, kindergarten, restaurant, Sky bar & lounge, Gym & Spa Center, sauna service , massage, smart parking. According to the project owner, DIN Capital - Cosmos Housing, the Landmark Tower apartments have beautiful view towards the Han River, the majestic Son Tra peak, the beautiful Da Nang bay and especially the view of the famous bridges including Han River Bridge, Dragon Bridge, Tran Thi Ly Bridge. 
Close and convenient traffic connection from Landmark project to Han market, big hotels, art museum, Vincom Center, hospital, school, My Khe beach.
Din Capital's activities in the last 6 months
DIN Capital Investment Group Joint Stock Company has just reported its business results for the second quarter of 2022 to the State Securities Commission and the Hanoi Stock Exchange. According to the report, revenue from sales and service provision in the first 6 months of 2022 reached nearly VND 138.3 billion, business performance increased, and DIN Capital's profit after tax of corporate income reached nearly VND 4.7 billion (audited), more than 2 times higher than in 2021. 
At the Annual General Meeting of Shareholders in April 2022, Mr. Le Truong Ky, Chairman of DIN Capital's Board of Directors, said that the company had set a goal to diversify its business and investment fields. 
In the business orientation in the 10-year strategy presented by the Board of Directors, in addition to the field of commercial concrete, trading of building materials and other equipment, this year and the coming years, DIN Capital still maintains its investment orientation in real estate, planning of cooperation with foreign partners to promote investment in 1 to 2 real estate projects every year.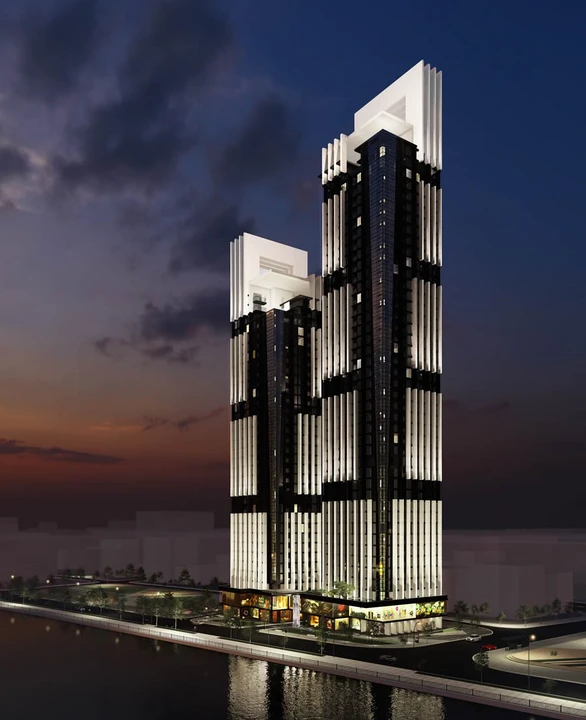 Da Nang Landmark project is designed by Raymond Vietnam Architect Design One Member Co., Ltd; Space design by Anh Dao Island One Member Co., Ltd.; Interior design by Kien Van Tin Construction and Design Consulting Co., Ltd; Construction unit: DINCO Engineering and Construction Corporation and Project Cooperation Bank: Vietcombank and VietinBank.